Education
South East Asia Representative for two French schools:
Institut Paul Bocuse (IPB)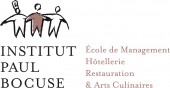 Founded by Paul Bocuse and led by its president Gérard Pélisson, Institut Paul Bocuse provides training for management in the hospitality industry and culinary arts leading to the Bachelor and Master levels, in partnership with IAE Lyon, EMLYON Business School, the University of Applied Sciences Haaga Helia and Stavanger University. Combining tradition, modernity, innovation and research, the Institut aims for excellence in all areas.
Implementing the highest standards, it transmits the technical and managerial know-how necessary to prepare its 470 students from 37 different nationalities to take on key positions in the profession internationally and to meet the current and future challenges in the industry.
Since 2008, Institut Paul Bocuse has expanded its expertise to include research and innovation, establishing its own Food & Hospitality Research Center, unique in its field, with a Living Lab restaurant, an experimental modular platform used to study attitudes towards food in a real-life setting. It welcomes PhD students in order to study the practices, behaviors and values of these professions. It brings together complementary knowledge and expertise from scientists and professionals from the food and hospitality sectors, and carries out multidisciplinary projects, studying people's relations to food: their habits, choices and cognitive processes.
Institut Paul Bocuse also offers cooking courses for passionate non-professionals and provides bespoke training and consultation services to professionals and higher education establishments in the hospitality & foodservice industries, in France and internationally.
---
EMNantes
Created in 1990 by the French Ministry of Industry, the Ecole des Mines de Nantes School of Engineering was designed as a tool for the development of industry through high-level teaching and research.
Competent in industrial systems engineering, the Ecole des Mines engineer masters the skills necessary for the design, the development, and the maintenance of production systems.
To develop all these skills, the Ecole des Mines focuses its teaching on three major generic fields: computer science and communication systems, automatic control and industrial engineering as well as human and social sciences, which are an integral part of the options taught in the final year of study.
The teaching programs are designed to provide industry with high level engineers able to face the challenge of an increasingly competitive international industrial context.